In marketing, how to get attention is not easy, yet it is fundamentally important.  This article describes one way a smart marketer got my instant attention and how you can possibly use this same strategy to get attention with your marketing.
Last week I had the privilege of hosting a group of smart business owners and entrepreneurs at a two day information-marketing seminar here in Philadelphia and a few days before the start of this seminar, one of the attendees did something that was so unique, I had to share it with you.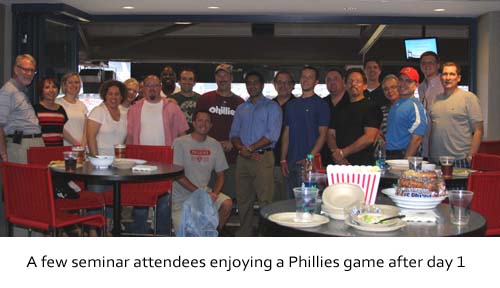 Phil Brakefield has been a customer, member and subscriber of mine for several years now and he's one of the foremost experts on how to create and use promotional items with a 40+ year track record at doing some amazing things.  I've been buying from him for a few years now and I'm always amazed at what he comes up with for me.
Last week, he outdid himself.
A few days before the seminar, UPS delivered a five-foot long box and when we opened it, there was a custom, Capuzzi-branded Peavey electric guitar staring back at me.  The guitar featured a number of my product logos and looked amazing.

To say it got my attention would be an understatement and while I don't play guitar, it now has a prominent place in my office.
In all my years of creating various marketing promotions, I have never seen anything like this and when I asked Phil about it, I was surprised at just how cost-effective creating a one-off guitar like this can be (e.g. a couple of hundred dollars).
As a marketer, you know that the critical first step in any marketing effort is getting the attention of your recipient and for the right marketing campaign (or target recipient), creating something unique like this might just do the trick for you.
Let's say you work in the business to business world and you're targeting senior executives.  You could easily create a custom-branded guitar and send it to them as part of a multi-step campaign, letting them know how you can "rock their world."
Now for most people reading this, other than seeing a very cool promotional idea, there's probably really not a practical way to leverage this specific idea and that's OK.  My whole point was to show you something different (and introduce you to Phil if you're looking for unique promotional items).
However for a very small group reading this, a custom-branded guitar (or something equally as powerful) could be your opportunity to meet with a business owner, executive, VIP, etc. And it would be dollars well spent.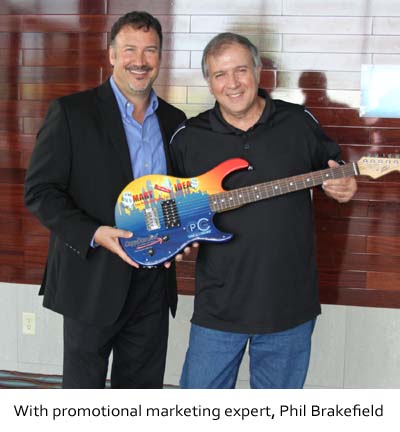 Phil is a stand-up guy and I could not offer a higher recommendation.  Contact him at 800.859.2831.
++++
NOTE: I just announced my next information-marketing blueprint seminar to be held this coming October.  This one day seminar will be focusing on how you can create a six-figure newsletter publishing business.  Details not available yet, but you can get on my advanced email notification list by visiting www.InfoMarketingBlueprint.com.