3 Ways to Mastermind with Me in 2019
[embedyt] https://www.youtube.com/watch?v=C0dVC0-XZxw[/embedyt]
It's hard to believe 2018 is winding down and I am sure you are already starting to think about 2019 and ways to grow your business and make it even more profitable.
On this episode of 3 in 3, I'm going to share three mastermind opportunities to grow your influence and business in 2019, so get ready for 3 in 3!
These mastermind and consulting groups are designed for four types of business owners:
The bricks and mortar business owner – Own a physical place of business where prospects and customers visit to buy products or services (e.g. retailers, insurance agents, dry cleaners, etc.)
The professional practice owner—Own a professional service business (e.g. dentists, lawyers, physicians, accountants, etc.)
The face-to-face business owner – Own a business where he or she must visit the customer's place of business or home (e.g. sales professional, carpet cleaner, landscaper, etc.)
The information-marketing business owner—Own a knowledge-based business (e.g. authors, professional speakers, coach/consultants, etc.)
These groups are designed to connect marketing-oriented business owners with other smart owners, leverage my 25 years of marketing experience for feedback and create higher levels of income and influence.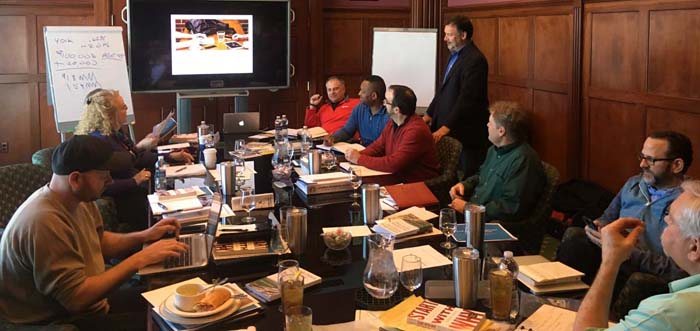 2019 Opportunity #1 – High Impact Mastermind Group
The first opportunity is my 2019 High Impact Mastermind group which is a traditional, small-number, in-person type of mastermind experience.
I've been hosting these types of mastermind groups for 12 years and they are powerful ways to get valuable feedback and be connected to other smart business owners.
This is my highest-level group and includes several unique, important and valuable benefits.
2019 Opportunity #2 – High Impact Virtual Mastermind Group
The second opportunity is for the person who wants to tap into the power of a professionally-run mastermind group but doesn't want to travel to meetings.
My High Impact Virtual Mastermind group leverages the power of online meetings to bring together members for a live, virtual mastermind.
This is still a traditional, hot seat-type of mastermind experience that only requires a few hours of time during the month and no travel!
2019 Opportunity #3 – Capuzzi Private Client Group
The third opportunity to work with me in 2019 is my private client group.
The primary benefit of this group is the monthly phone calls with me for personal and private feedback and insights.
Members of this group do not have to travel to in-person meetings and may participate in the virtual mastermind meetings.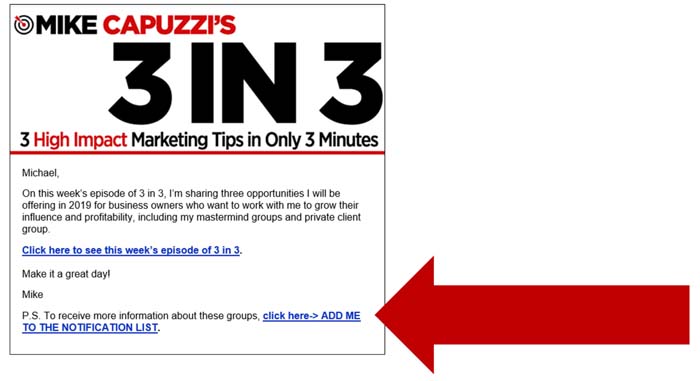 So, that wraps up this episode of 3 in 3.  If the idea of working together in 2019 to grow your influence and business interests you please make sure you click on the link in the email I sent you – the one that says, "ADD ME TO THE NOTIFICATION LIST."
That way I can get all the information to you. These groups typically fill up quickly, so please make sure you don't delay if this is of real interest to you., and until next time, keep on marketing!