You can order the following Mike Capuzzi-authored books at Amazon.com.
The Magic of Short Books
In era of ultra-short attention spans and time-strapped schedules, The Magic of Short Books presents a simple, yet thought-provoking idea for business owners and entrepreneurs who want to publish a book to promote themselves and their business. DON'T DO IT!
Instead, marketing expert Mike Capuzzi suggests a different path and more effective opportunity by publishing a shook™ or short book.  Shooks are uniquely-designed books with a single, helpful focus that are faster to create and easier to read.  They are a win-win for you and your readers.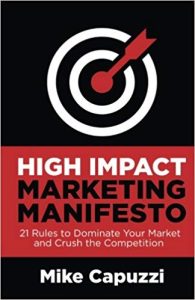 High Impact Marketing Manifesto
https://www.amazon.com/dp/1981612432
In this short, easy-to-read book, you'll discover 21 High Impact Marketing rules for creating more personal and relevant ways to attract, connect with and WOW! your leads, prospects and customers. Follow these time-tested rules and you and your business will instantly rise above any competition and be the "go to" choice in your community.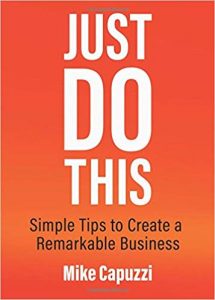 Just Do This
https://www.amazon.com/dp/1732512701
Just Do This enables any type of small business owner to begin to immediately take advantage of the various tactics and strategies within an hour. No matter what type of business you own or market for, the tips found in Just Do This will create a remarkable business with satisfied customers and raving fans.