A Webinar Time Zone Converter Designed to Increase Webinar Attendance
If you host webinars, you know that webinar time zone conversion is critical in order to achieve the highest attendance rate possible.  If your guests and registrants don't know what time your webinar starts in their local time zone, there's a high probability they will miss it.  This is why it's critical that you use some type of webinar time zone converter or webinar time zone conversion tool for all your webinars, including GoToWebinar®.
For years I ignorantly chose to ignore the critical importance of webinar time zone conversion, until after a recent webinar, where I receive a handful of emails after it was over from registrants confused of the start time. Since just about all my webinars are global in nature, this webinar time zone conversion factor has a huge impact on getting people to attend at the right time, so I knew I had to do something. .
I searched online for a tool to allow my webinar registrants to convert the webinar time into their time zone, but could not find anything simple, easy and specific to webinar time zone conversion.  So I did the next best thing and created my own webinar time zone converter – Webinar Clock.
Webinar Clock allows you to create a webinar time zone converter you can put into your emails, registration confirmation pages and web sites to quickly and easily allow your guests and registrants to convert your webinar start time into their local start time. The simple addition of adding a webinar time zone converter in your webinar registration pages, marketing emails and follow up email sequences will undoubtedly improve the show up rate of your webinars.  Webinar Clock make this easy (and even free) to do!
There are two versions of Webinar Clock.  A 100% free version, which is branded with the Webinar Clock logo and a paid version which allows you to put your own logo and URL on the Webinar Clock.  Let me walk you through the steps on how fast and simple it is to create a custom and personalized Webinar Clock with the paid version.
Step 1 – Enter your webinar details and how you want the Webinar Clock to look.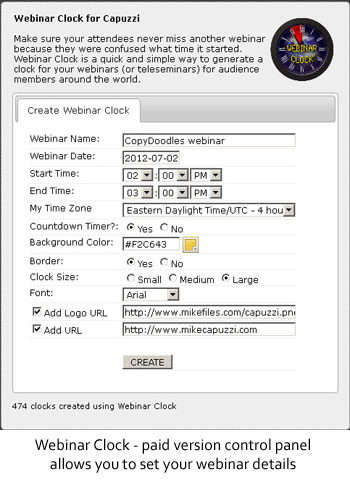 Step 2 – Generate your Webinar Clock and get the code.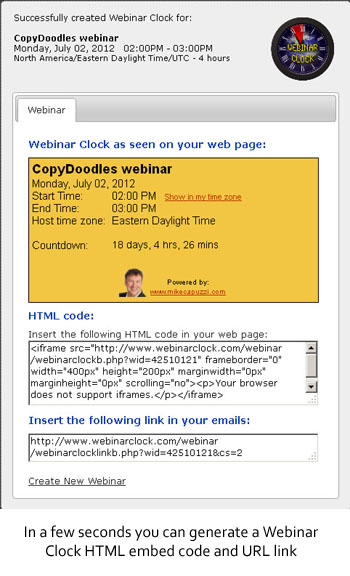 Step 3 – Review your Webinar Clock!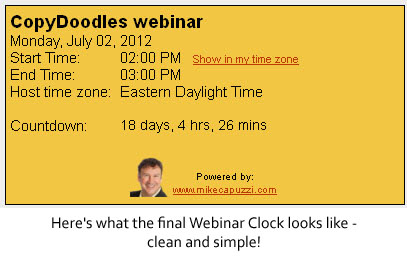 For more information on this handy webinar time zone converter, visit www.webinarclock.com or check out this short video: