I have authored a number of shooks (short, helpful books) for Main Street business owners to read and use to promote and grow their businesses. Each is written to be easy-to-understand and quick-to-implement and best of all you can finish the entire shook in about an hour!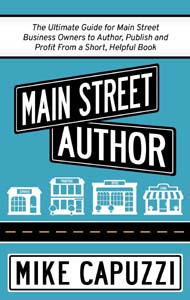 Main Street Author
Main Street Author is the ultimate guide for Main Street business owners to author, publish and profit from a short, helpful book.
In era of ultra-short attention spans and critical need to stand out, Main Street Author presents a simple solution for business owners who want to publish a book to promote themselves and their business-the shook™. Shooks are uniquely-designed short, helpful books that are faster to create and easier to read. They are a win-win for you and your readers.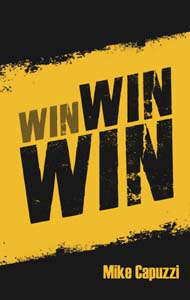 WIN WIN WIN
WIN WIN WIN was written for coaches, consultants and information-marketers who want to create their own licensable shook publishing opportunity via my SMART Publisher program.
Due to the exclusive and private nature of this program, WIN WIN WIN is only available by contacting sending an email to info<at>mikecapuzzi.com or leaving a message at (800) 690-0842.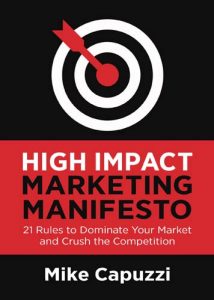 High Impact Marketing Manifesto (third edition)
The High Impact Marketing Manifesto is written for bricks and mortar/Main Street-type business owners and shares the principles of High Impact Marketing and how to stand out.
In this short, easy-to-read book, you'll discover 21 High Impact Marketing rules for creating more personal and relevant ways to attract, connect with and WOW! your leads, prospects and customers. Follow these time-tested rules and you and your business will instantly rise above any competition and be the "go to" choice in your community.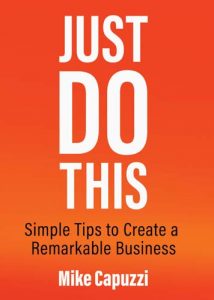 Just Do This (second edition)
Just Do This is a collection of 77 simple, yet effective marketing ideas for bricks and mortar/Main Street-type business owners to get new customers.
Just Do This enables any type of small business owner to begin to immediately take advantage of the various tactics and strategies within an hour. No matter what type of business you own or market for, the tips found in Just Do This will create a remarkable business with satisfied customers and raving fans.