3 Good as Gold Marketing Ideas
[embedyt] https://www.youtube.com/watch?v=ZFstpA6Ohd8[/embedyt]
On this episode I'm going to share three "as good as gold" tips to make your marketing stand out and get attention!
Nobody can deny the value of gold and there are lots of fun ways you can leverage this connection in your marketing!
I have used each of these ideas over the years and continue to do so, so get ready for 3 in 3!
High Impact Marketing Idea #1—Use Golden Language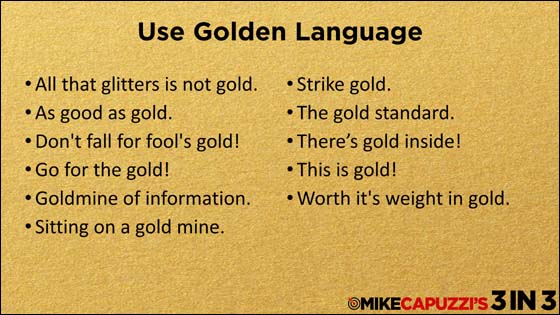 There are many gold-related idioms you can use in your marketing copy to convey a certain feel or value.
Over the years, I've used this type of language to convey value and substance and even way back in 2007, I created a special set of gold CopyDoodles®, which can be downloaded from the CopyDoodles Access Club.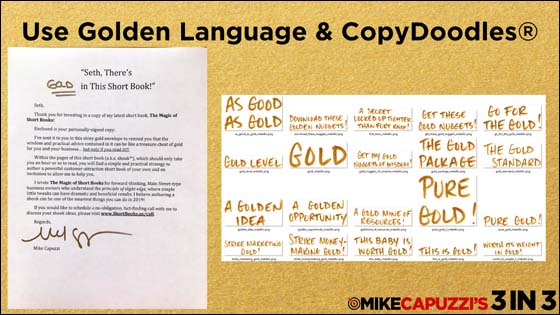 High Impact Marketing Idea #2— Write in Gold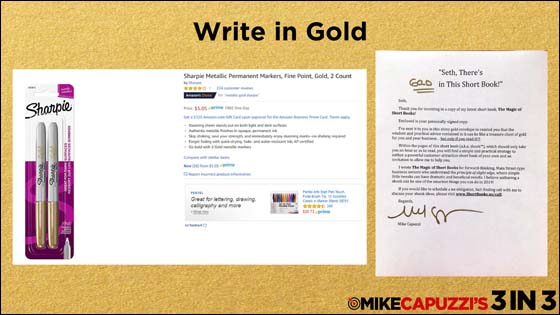 If you're not a CopyDoodles member or want to create your own doodles, you can easily write in gold by using a gold metallic Sharpie® marker.
I have a gold letter and mailer I use when I send out copies of The Magic of Short Books and even sign the letter in gold using one of these Sharpie markers, which you can easily get at your local office supply shop or at Amazon.com
High Impact Marketing Idea #3— Print on Gold
There are several different ways you can "print on gold" and create a unique-looking marketing asset.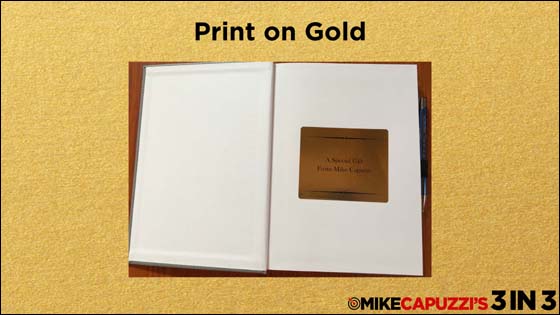 I am a big fan of sending out custom journals to my clients and members and often will include a personalized metallic gold note inside the journal to make it even more special.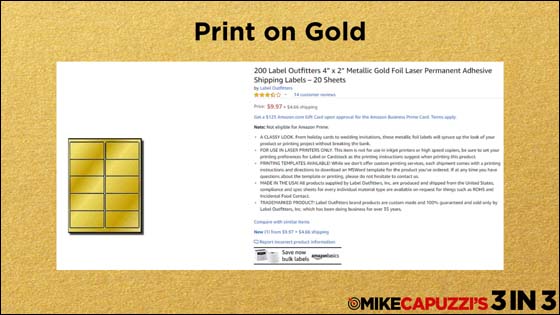 You can find these laser-compatible metallic gold labels in all sizes at Amazon.
While there, you can also check out all the laser printer-compatible gold paper and cardstock, which allow you to create super-unique letters and things.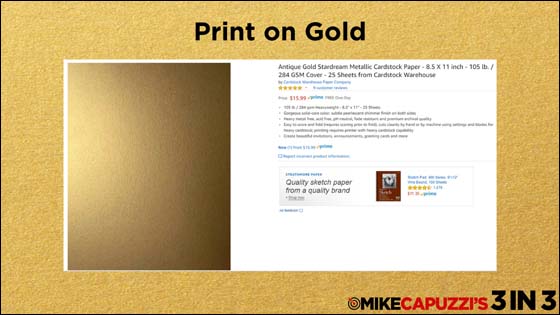 As a matter of fact, I am going to show you one of these unique "things" on the next episode of 3 in 3, where I will share three more unique ways to make your marketing as good as gold!
So that wraps up this episode of 3 in 3.
I hope you found this episode useful and until next time, keep going for the gold!