Three Reasons to Attend Bill Glazer's Virtual Summit
[embedyt] https://www.youtube.com/watch?v=y1Sd2Hnvxes[/embedyt]
Last June I was fortunate to present at Bill Glazer's Outrageous Campaign Live event.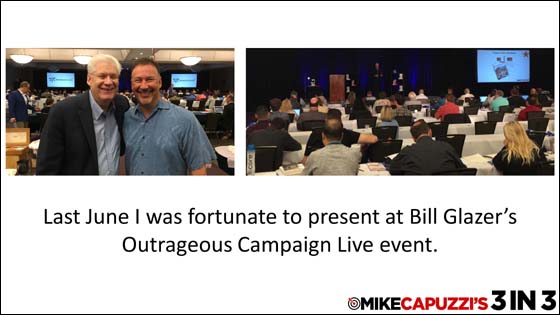 An event that helped a lot of business owners get new ideas for their marketing and raised over $100,000 for a veteran's stroke victim fund.
If you know anything about Bill, he is not one to sit still and given the success and impact of Outrageous Campaigns Live, he is pleased to announce the Outrageous Campaigns Virtual Summit!
From May 13-17 he arranged for some of the most successful entrepreneurs, business owners, and marketers in the world (all his clients and friends) to share with you the secret sales funnels they use every day to grow their business OUTRAGEOUSLY.
On this episode of 3 in 3, I want to share three reasons to grab your free ticket for this outrageous virtual event!
High Impact Marketing Reason #1
Bill has gathered 42 smart marketers and asked them to share one of their outrageously successful marketing campaigns.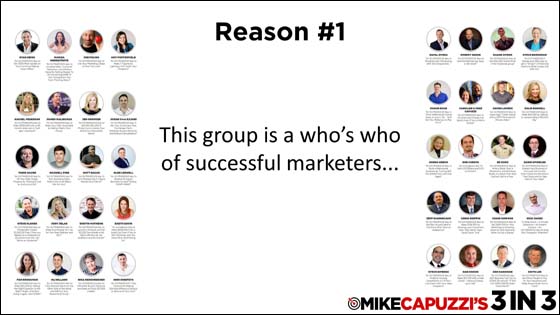 This group is a who's who of successful marketers and your bound to get a bunch of profitable new ways to attract customers!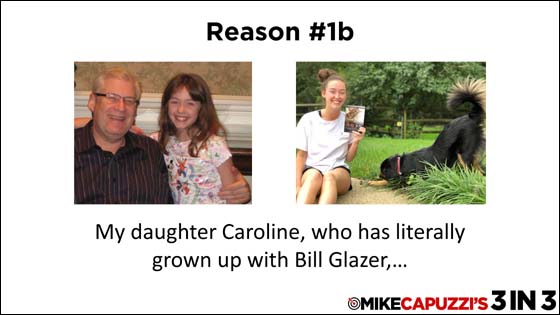 My daughter Caroline, who has literally grown up with Bill Glazer, is featured in Bill's Summit and her campaign could be copied by any kid!
High Impact Marketing Reason #2
When you register, you can swipe any or all of the OUTRAGEOUSLY SUCCESSFUL marketing campaigns that you know work and use them in your own business – with every contributor's blessing!
So, by the time you finish attending this virtual summit, you'll know exactly what you need to do to create your own outrageous marketing campaign or sales funnel.
You're practically guaranteed to get several big ideas for your business, but only if you get your free ticket and attend!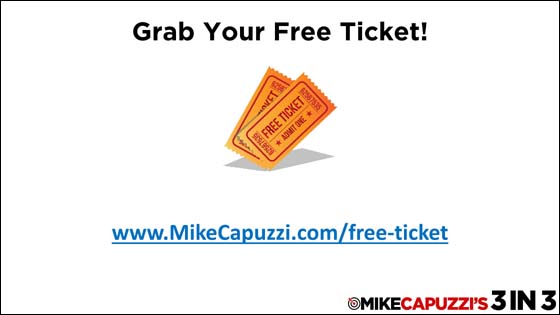 Which you can grab at: www.MikeCapuzzi.com/free-ticket
High Impact Marketing Reason #3
Several years ago, Bill suffered a stroke and while he had the means to get the best treatment possible, he knows others don't, which is why he is donating all the proceeds from the book and product he is going to create from the virtual summit interviews.
100% of these proceeds will be donated to a Veterans Affairs program that assists veterans who have suffered a stroke.
Attending this event will not only help you but will help others!
So that wraps up this episode of 3 in 3.
I hope to see you at Bill Glazer's Outrageous Campaigns Virtual Summit!
Get your free ticket here-> www.MikeCapuzzi.com/free-ticket
Until next time, keep on marketing!