A Decade of CopyDoodles – How It All Began
Since 1998, I have been helping business owners improve their marketing results.  One of the strategies I learned early on in my consulting career was how important the LOOK of your advertising and marketing is for readability and response.
As I studied the history of advertising and copywriting, I discovered a simple little secret to getting more attention and readership – the use of handwriting and hand-drawn elements to magnetize the reader's eyes to my copy.
Study any of the great copywriters of the past century and you will see they all believe in the use of handwriting to spice up marketing and advertising pieces, which is why I started creating my own private library of doodles to use in my client marketing campaigns.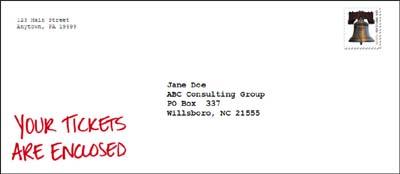 Then, in the summer of 2007, three important and life-changing things happened to me.
During a mastermind meeting, I showed a marketing campaign I had worked on for a client, including before and after examples where I used CopyDoodles and got a nice bump in response.
I wasn't trying to get feedback about CopyDoodles, but the group loved the look of them and that is quickly where the conversation turned with a huge push by the group to make them available for sale.
Motivated by the positive reception I received, I started to sell CopyDoodles.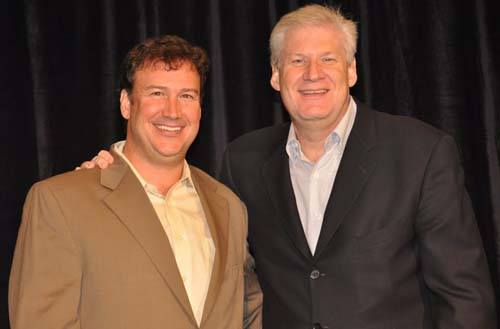 Then about a month later, I was at a small event in Florida where Bill Glazer was speaking.  I told Bill about CopyDoodles and he told me to send him a CD-ROM so his marketing team at Glazer-Kennedy could check it out.  Not sure how it would turn out, I did what Bill suggested and before long, just about every marketing piece Glazer-Kennedy created had CopyDoodles on them.
Bill quickly became CopyDoodles #1 fan and later, he sent me this testimonial…
"This is probably the biggest enhancement I have seen in the last 10 years for people that are writing copy for bumping the response and making the copy much more interesting. I highly recommend this product. We are using CopyDoodles extensively here at Glazer-Kennedy and I don't know what we would do without it."
Fast forward another month or so where I had the exclusive opportunity to have a private lunch with Dan during his Sales Strategies Seminar. Interestingly there were supposed to be two other guests at this lunch, and I suppose it was serendipity, but the other two gentlemen did not show up and it was just the two having lunch in private hotel room.
I can remember it like it was yesterday and during the end of our time together, I reached into my bag and pushed a CopyDoodles CD across the table to show Dan. I wasn't sure what to expect, but his smile said it all. Before he went back on stage, I grabbed a quick photo with Dan. As you can see by my expression, I was still in shock by all that transpired during our lunch together.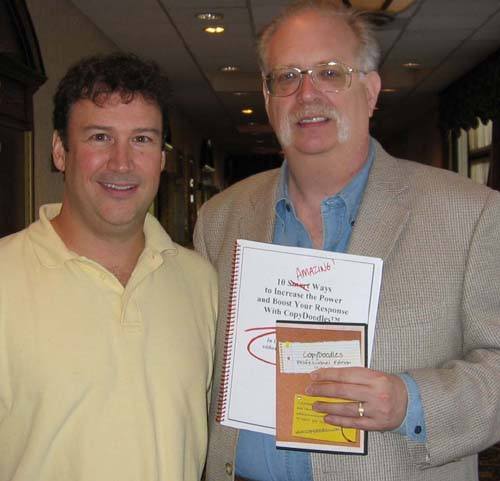 A few weeks later this fax arrived from Dan.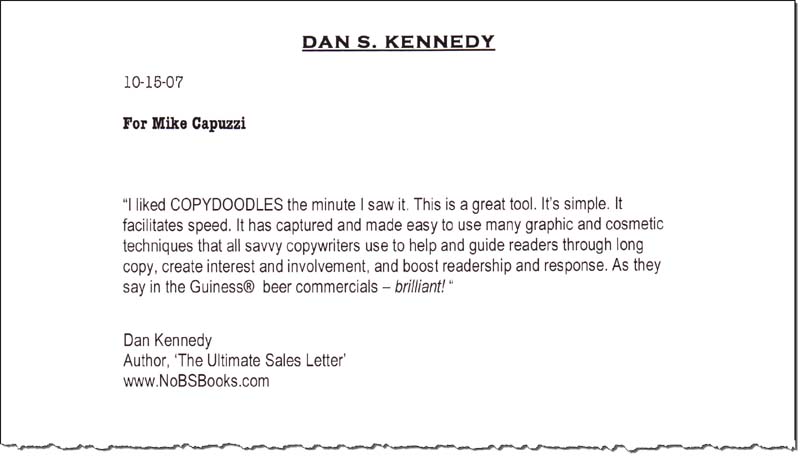 With the support and endorsement of both Dan, Bill Glazer and thousands of smart business owners and copywriters, CopyDoodles quickly became an amazing hit around the world and 10 years later is still going strong!
If you have never been a CopyDoodles member or were once a member or are even a current member now, you are going to want to check out the very special, very time-limited "Decade of CopyDoodles" birthday offer going on right now.