3 Ways to Leverage a Shook (short book)
[embedyt] https://www.youtube.com/watch?v=CxnGIr6xd-k[/embedyt]
On this episode of 3 in 3, I want to show you three high impact ways you can use a shook in your business, so get ready for 3 in 3.
High Impact Marketing Tip #1 – Use Your Shook to Generate Leads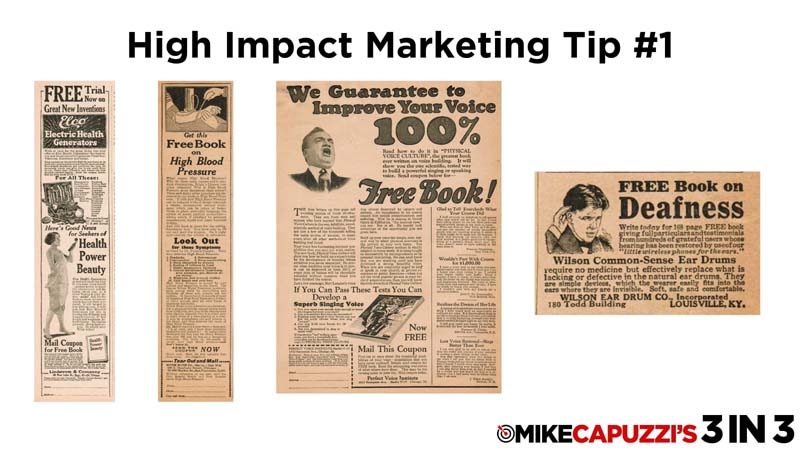 Books have been effective lead generation tools for over 100 years and done right, they remain just as effective today.
Today's top marketers still use books to target their ideal customer and generate leads both offline and online.
Shooks are excellent lead generation tools because they are created as a specific type of "bait" to attract a specific type of person – your ideal customer – with helpful information that solves a problem or offers an opportunity.
Dollar for dollar, your short book will be one of the most effective marketing tools in your business.
High Impact Marketing Tip #2 – Use Your Shook as a Referral Tool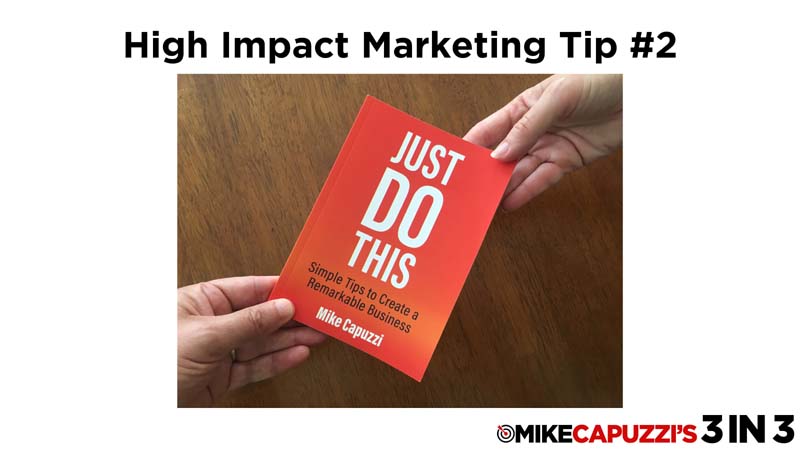 We all know referrals are one of the best ways to get new customers and your shook is a cost-effective and easy "pass-along" piece for people to share, both in print and digital format.
Give copies to your existing customers and ask them to share with their friends and family.
Create partner-specific versions which highlight the strategic partner and allows them to use in their business.
Given their different size and design, shooks are an easy-to-use referral tool.
High Impact Marketing Tip #3 – Use Your Shook to Get Publicity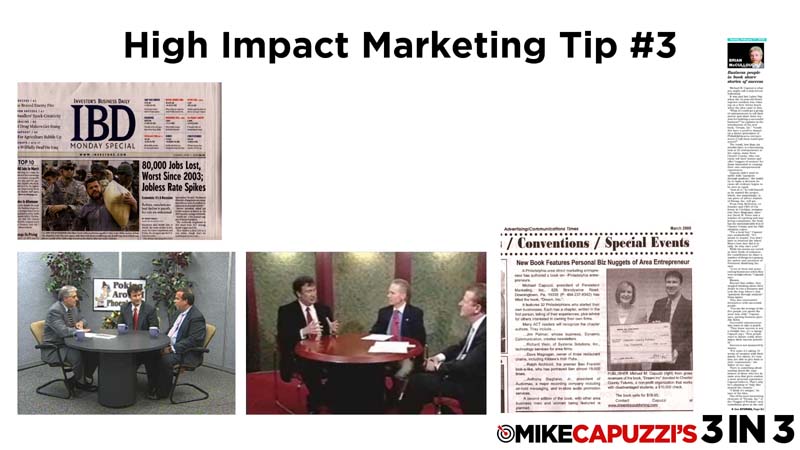 Your short book can be the catalyst for getting local publicity in your community.
This type of exposure can do amazing things for getting you known as a local and trusted resource, and in today's media driven age this is invaluable.
Two book projects I led in the past resulted in a nice article in Investors Business Daily and other news publications, local TV and even helped a non-profit generate over $100,000 in fundraising efforts.
Never underestimate the big opportunities, your shook can launch.
So that wraps up this episode of 3 in 3. I hope you found it valuable for you and your business.
If working with me to publish your short book sounds interesting, check out the Get My Short Book Done Fast Summer Camp. This is a 12-week program where you will work directly with me to get your short book done fast and pain-free!
For more information about this summer camp and to schedule a fact-finding call, visit www.ShortBooks.us And until next time, keep on marketing!