Ep:67 An Interview with Business Psychologist, Dr. Roger Hall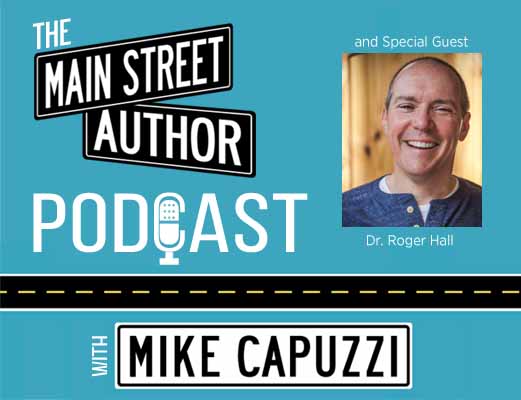 Main Street Author Podcast—Episode #67
On this episode of the Main Street Author Podcast, I am having a conversation with business psychologist and author, Dr. Roger Hall.
Roger is a Business Psychologist with clients all over the country, and he trains leaders to monitor and manage their thinking. Roger knows great leaders work on themselves first, and then success in their companies follows.
He has worked with thousands of leaders and loves to work with small entrepreneurial firms.
Roger is the author of the book, Staying Happy Being Productive: The Big 10 Things Successful People Do.
This is a great read for anyone who seeks to achieve optimum performance and I am a total believe in Roger's Big 10 Things Successful People Do. Here is a sneak peak:
1. Thought Life
It's the foundation for everything. If you don't control your patterns of thought, you can't control anything else.
2. Exercise Life
The easiest and least expensive way to improve your emotional life, to feel happier, is to exercise. It will improve your mood as much as an antidepressant with none of the negative side effects.
3. Nutritional Life
Your body has a chemical factory that assembles neurotransmitters, among other crucial things, from the food you eat. So nutrition is as much about your mental health as it is about your physical health.
4. Love Life
If you have trouble at home, you're going to have trouble at work. If you're having trouble at work, you're going to have trouble at home.
5. Social Life
We all need friends to tell us the truth. Successful people work very hard to find friends who run at the same speed, solve the same kinds of problems, and who share their values.
6. Work Life
Humans are built to work. We're designed to love our work. Having work with purpose and accomplishment is important for happiness in your life.
7. Money Life
Money can't buy you happiness, but it sure can help you to avoid a lot of misery. And if you have more than you can handle, it can create misery unless you get help to learn how.
8. Sleep and Rest Life
Your brain repairs itself while you're asleep. If you aren't sleeping well, you'll see a host of physical and emotional problems develop. Make a new habit to go to bed earlier.
9. Recreational Life
You need to have fun. If you're so focused on success and work that you never spend time with people you can have fun with, you're missing out.
10. Spiritual Life
Studies show that if you participate in a religious or faith community sharing common beliefs with others, you will be healthier and happier.
Subscribe now on your favorite podcast player: