Six Figure Coach Magazine – subscribe for free
My buddy Karl Bryan has undertaken a huge initiative – to start a new digital magazine published specifically for business consultants and coaches – and I am trying to help him.
It's called The Six Figure Coach Magazine and you can get a free subscription here.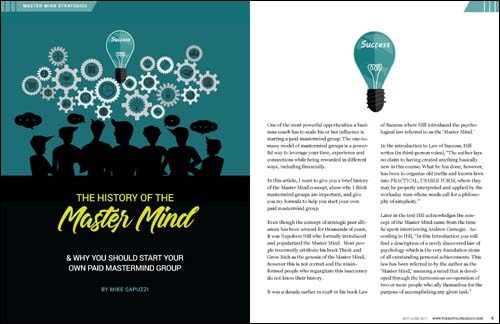 The current issue is available and in it you will find an article, by me, on the history of mastermind groups and a several other valuable articles including:
Coaching Lessons Learned from Tony Robbins
Interview with David Frey and Martin Howey
The Top 150 Up and coming Marketing Coaches to Watch Online
Using LinkedIn With Josh Turner
How to Be the Trump of Social Media
And more!
The magazine is beautifully designed and the content is top-notch (in this issue alone there are more than 15 useful articles).  If you are in the business of helping other business owners, grabbing your free subscription is a no-brainer.  Visit: http://TheSixFigureCoach.com/subscriptions.
Speaking of mastermind groups – have you checked out my "virtual mastermind summer school?"  It starts this June – visit www.MastermindforProfit.com for details and to reserve your seat.