3 Ideas for Using Your Own Handwriting Font
As you know I am a big believe in the power of using handwriting to get attention and connect with people, which is why I created CopyDoodles® over 11 years ago.
One simple handwriting strategy that adds a nice personal touch is turning your handwriting into a computer font, so you can literally type in your own personal handwriting style.
On this episode of 3 in 3, I'm going to share three ideas on how you can use your own handwriting font and a FREE way to have us create it for you, so get ready for 3 in 3!
High Impact Marketing Idea #1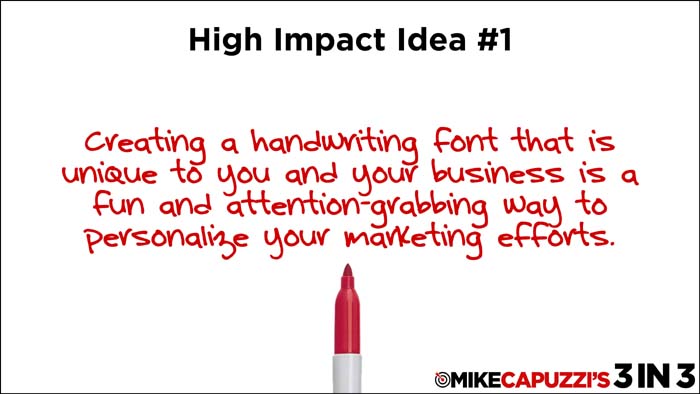 Creating a handwriting font that is unique to you and your business is a fun and attention-grabbing way to personalize your marketing efforts.
A computer handwriting font allows you to create marketing that looks different than everybody else's and allows your marketing and advertising to stand out.
Even if your handwriting is not the most legible, consider using one of your team member's handwriting for your own unique company font.
High Impact Marketing Idea #2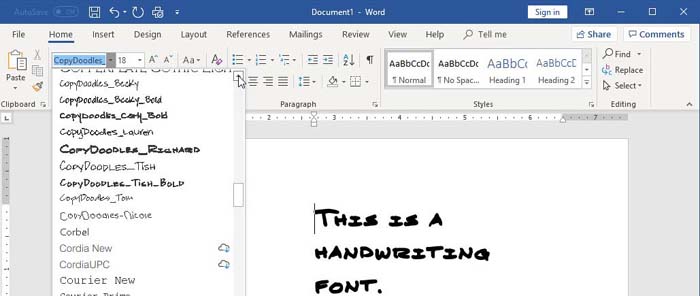 Once your handwriting font is created, you can install it on your PC or Mac and use it like any other installed font.
This means you can type in your own handwriting.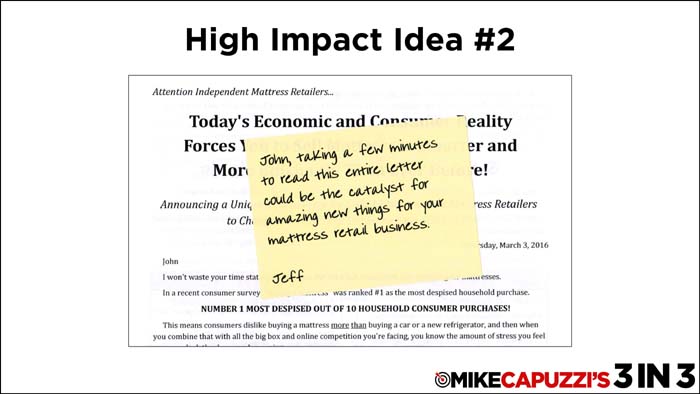 This makes it super simple to create notes, unique-looking testimonials, letters and envelopes and mailing packages using your handwriting but without having to literally write each.
Simply by using a mail merge feature, you can save hours of by using your own handwriting font.
High Impact Marketing Idea #3
The third idea for using your own handwriting font is the ability to give it to your graphics designer so he or she can use it to create various marketing pieces that uses your own handwriting.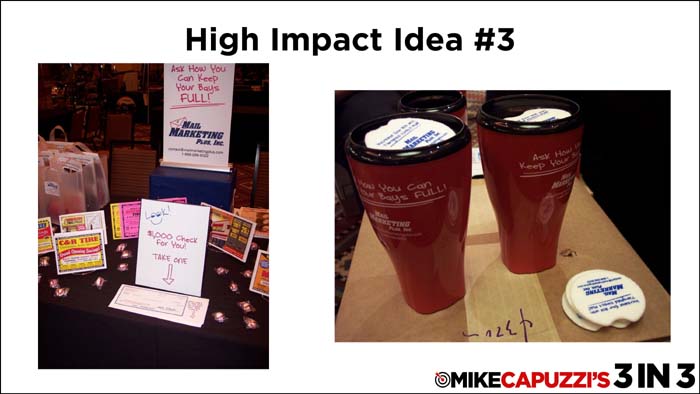 You can use on promotional items, signs, books, social media ads, websites and any other printed or digital media.
If you don't have your own handwriting font, you can Google "create handwriting font" and discover a bunch of different ways to get it created or if you want us to do it for free simply buy a copy of my daughter's book (100% of the profits are going to support dog rescues) and send me an email with your receipt.  Check out www.DogJoyBook.com.
So that wraps up this episode of 3 in 3. I hope you found these ideas useful.  Until next time, keep on marketing!