Bad marketing example: doing the right things wrong.
If you're like me, you treat your mailbox and email inbox as an opportunity to learn.  Sure, 90% of the stuff in either box is NOT worthy of your study, but I guarantee 10% or so of the mail and emails you're getting offer ideas on what to do (good marketing) and what NOT to do (bad marketing).
This particular example I want to show you falls in the latter category in my opinion.  The reason I wanted to show it to you is because it does a number of right things in the wrong manner.
I should let you know after doing some quick research, I realized this letter is coming from a very experienced and rather well-known marketer, which just proves how easy it is even for seasoned and successful marketers to make fundamental mistakes.  Obviously, I have no idea how this letter is converting for him, but when you see it, I think you'll agree it fumbles the ball. You can click on the images to enlarge.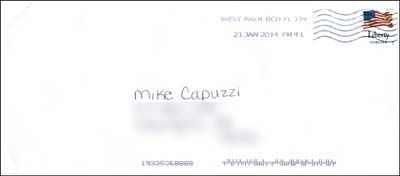 Right thing #1: Highly-personal looking, hand-crafted envelope. This letter did almost everything right when it arrived in my mailbox.  It was sent in a personal-looking, plain-white #10 envelope with real handwriting and a first class stamp.  Nothing to criticize so far.
Right thing, wrong #1:  In my opinion, these days if you leave off a return address it's a classic tell-tale sign that what I am about to open is "marketing and advertising."
Why do I say this?
Simply because these days if you were to send a letter to a friend, there is a 99.9% probability you would include a return address.  Chances are you would even include your name, right?
Since I am a proponent of crafting marketing that feels highly personalized and as if you were writing to a friend, I believe a return address is important.  Even if you're doing direct mail to a "cold list" and the recipient doesn't know you, I think it's still smart to include this form of personalization.  In today's age of rampant skepticism and cynicism, I believe NOT having a return address on an envelope is a mistake.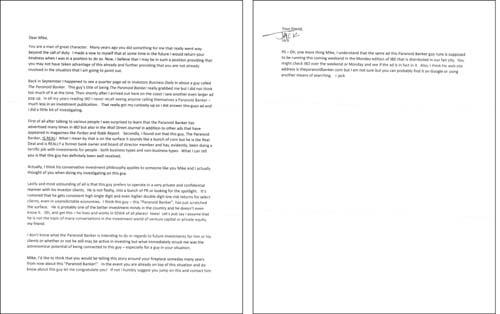 Right thing #2: Personal-looking, personalized letter. The letter opens by continuing the personalization – just like a friend-to-friend letter.  This is a good thing.
Right thing, wrong #2:  So while it's personalized to me, the second disconnect comes from the fact I have no idea who is writing to me in this personal nature.  There's no introduction and even if I scan ahead – I see the letter only comes from a "Jack."  For many people, like me, the sender just put a speed bump in front of me.
Right thing #3: A heck of an opening grabber. The personalized salutation goes right into a doozy of a grabber that got my attention.   It opens with a huge compliment that appeals to me, the reader.  Then it goes on to tell me because I "did something that really went way beyond the call of duty" he vowed to help me, which was the reason for the letter. This is classic and chances are would grab just about every reader, which is always the purpose of your opening lines.
Right thing, wrong #3:  I have to admit, I had to read this opening several times, before I realized it wasn't grounded in truthfulness and this is where the sender makes a big mistake in my opinion.  As soon as my "b.s. meter" was flashing red, the sender lost me.  Now I realize like any other marketing campaign, it's always a numbers game and the assumption here is quite a few readers will want to believe the compliment and simply overlook the lack of facts.  But again, in my opinion, it's this type of "white lie" that gives a lot of marketing and advertising a bad rap.
On a side note – IF you can swipe this opening paragraph AND base it on facts, not fiction, then you will instantly grab your reader due to its ego-centric nature.
Right thing #4: "Me to you" writing style. The entire letter is written in an informal, friendly tone, which I believe is a good thing.  "Me to you" marketing is one of my High Impact Marketing building blocks (which you will soon be able to read about in my upcoming High Impact Marketing Manifesto) and a critical strategy to connecting with your prospects and customers.
Right thing, wrong #4:  Here's where everything falls apart with this entire letter.  My grateful "friend Jack" is a lie.  He doesn't exist and everything in the letter is b.s.   I hate this kind of marketing and while it has manifested itself many different ways over the years, it doesn't make it any more palatable.  I know marketers use it because it works (or used to work), but in my opinion it doesn't make it right.  If you're going to attempt to start a relationship with me built on a lie, I don't want to do business with you.
Fortunately "Jack" makes not responding pretty easy, because his call-to-action is one of the weakest I have ever seen.  Go ahead and read the letter and then tell me what the call-to-action is.   I guess it's in the P.S.  where he lists the website "he thinks" is the right one.  Yeesh.
Bad marketing comes in many forms, but marketing that is built upon blatant lies is the worst of the worst.   It will be interesting to see the follow-up pieces to this letter. If I get any, I will post an update to this article. In the meantime, I want to know your thoughts and feedback.  Chime in here and let me know if you agree or disagree with me.  Am I over-reacting?  I want to hear your thoughts!