3 Ideas for Business Wall Art Gifts
[embedyt] https://www.youtube.com/watch?v=pfVuUW11sGE[/embedyt]
On this episode of 3 in 3, I am going to share a neat company I found that allows you to create these cool canvas prints and how you can use them to create unique wall art gifts for your customers, clients, members, etc.
It's a unique gift that will get noticed and not thrown away, so get ready for 3 in 3.

High Impact Marketing Idea #1 – This is high quality wall art
EasyCanvasPrints.com creates high-quality wall art, including canvas, wood and metal artwork.
You can use your own artwork, photographs, logo, etc. to create a unique gift that will be appreciated.
I have created several projects with them and like their canvas prints because of the quality, fast turnaround time and low cost.
If you get on their email list they run some great price specials and at the time I am recording this episode, they are running a summer special with big savings.

High Impact Marketing Idea #2 – Create personalized canvas prints
A few months ago, I hosted a panel of business owners during an event.  Because each of them took time out of their busy schedule to help me, I wanted to create a memorable and personalized gift that would also be a "Mike Capuzzi" reminder.
So, we created a fun-looking image and because EasyCanvasPrints.com allows you to create single prints, I was able to give each of the panelists their own unique gift with their name on it.
This type of personalized artwork would be a great addition to a new member kit, welcome gift or some other WOW! package. 

High Impact Marketing Idea #3 – Create memorable sayings
Now I have not done this personally yet, but if you are fan of using famous quotations…
… or you have your own sayings you are known for…
… you can create a unique text-based graphic, quickly and easily.
Now if you like these ideas, but don't want to go through the effort of creating your own artwork, check out another site that has some incredible pre-made business wall art.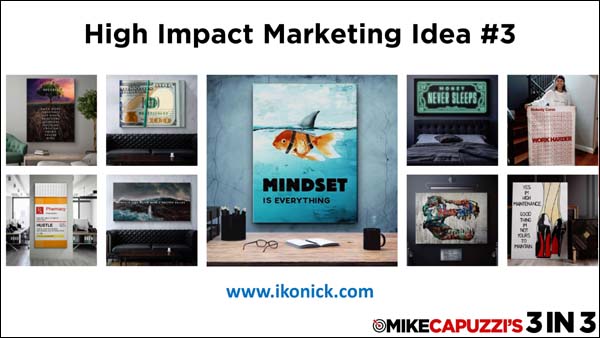 Ikonick.com has a ton of great wall art examples you can order or use for inspiration for creating your own artwork.
So that wraps up this episode of 3 in 3. I hope you found these ideas valuable for you and your business.   Make sure you check out these resources for unique wall art gifts out and until next time, keep on marketing!