Dan Kennedy Asks Mike Capuzzi to Be Featured in the Next Edition of The Ultimate Sales Letter Book!
I just received an unexpected fax from Dan Kennedy who wanted to know if I was interested in rewriting the chapter on 'graphic enhancements' in his classic book, The Ultimate Sales Letter.
My fax back was short and to the point… HELL YEAH!!!
I own the very first edition (1990) of The Ultimate Sales Letter and it was the book that introduced me to Dan Kennedy and his powerful marketing strategies.  To be asked personally by Dan to contribute to the 2011 edition of this book is an honor and shows how important Dan considers the topic of "copy cosmetics."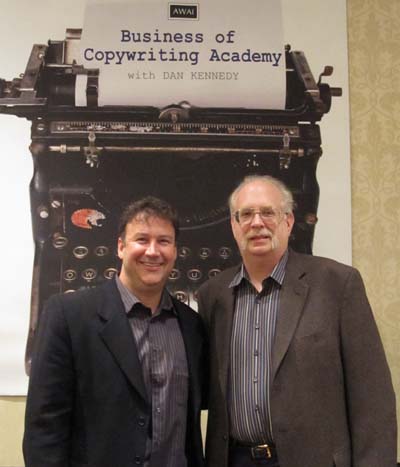 As a matter of fact, back in May, I was the guest of Dan at his Business of Copywriting Academy where I discussed the topic of copy cosmetics and the critical relationship between HOW your copy looks and the response it gets.
Over the past few years, I've immersed myself in the study of copy cosmetic techniques and strategies.  One of these techniques includes the use of handwritten margin notes and doodles, which triggered the idea for CopyDoodles® first for my own client work and most recently for thousands of business owners around the world.
Copy cosmetics are an often overlooked, but critically important topic for any direct response marketer or copywriter.  Their proper use allows you to create attention-grabbing marketing that is easy (and fun) to read and makes an emotional connection with the reader.  Plus they set you apart from the 97% of marketers who don't use them.
I've already started working on the chapter outline and I've identified 27 unique copy cosmetic strategies everybody should be using when crafting their copy (online or offline – it doesn't matter).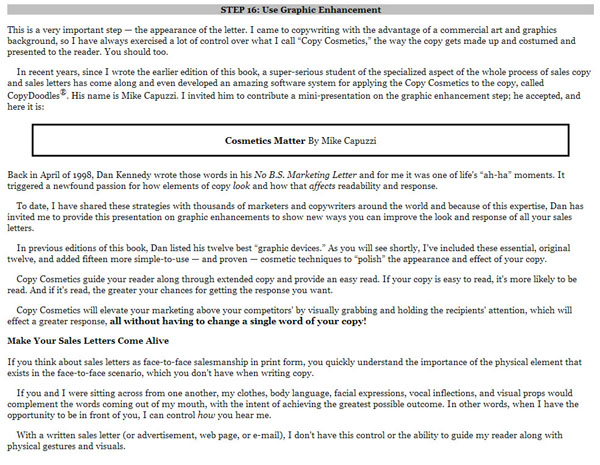 Just today I was interviewed by restaurant marketing expert Rory Fatt, on how independent restaurant owners can use these techniques (if you would like a copy of this interview along with a cheat sheet of 27 techniques I will be writing about in the next edition of The Ultimate Sales Letter, simply share your copy cosmetic thoughts below and I will make sure we email it to you when it's ready).