Can You Improve This Advertisement? – A Direct Marketing Strategies Contest
One quick and easy way to hone your own marketing skills is to review other's marketing and advertisement materials with the intent of trying to improve them so they follow the direct marketing strategies we all know and love.
Since often times we cannot see the glaring mistakes and areas for improvement in our own marketing because we're too close to it, studying and dissecting other's magazine ads, direct mail and web sites is "marketing mind exercise" and is typically a trait of marketing junkies like me and hopefully you.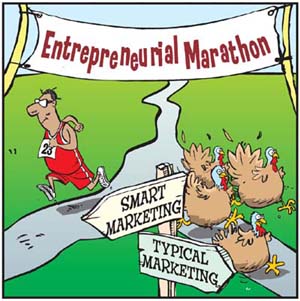 To inspire you to take a few moments to exercise your marketing brain, I will randomly pick two different readers who leave their thoughtful suggestions below on how to use direct marketing strategies to improve this magazine ad for a local furniture retailer.  The prize is a great little book, Mustard Seeds, Shovels and Mountains from the late, great Jim Straw.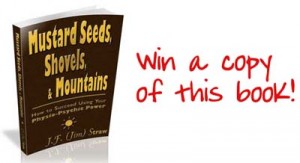 So here's the full page, ad agency-inspired ad for Oskar Huber furniture hear in the suburban Philadelphia area.  You can click on it to enlarge.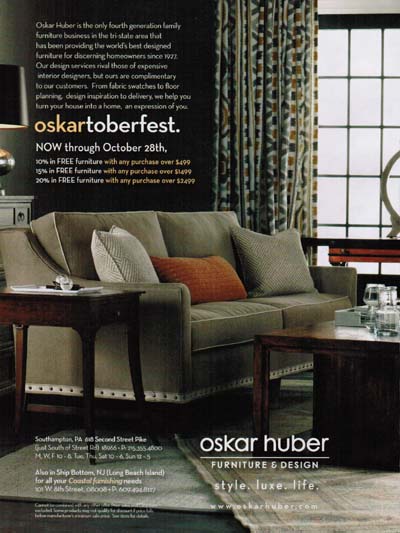 In the Philadelphia-area, Oskar Huber has a long-time, deeply established and respected name and brand.   They're market is higher-end and they typically target a more affluent buyer.  On a side note, last year's Super Storm Sandy wiped out their Jersey Shore location, but I've heard they have rebuilt and are stronger than ever.
Interestingly, I know the owners of this local business. They've done a consulting day with me and one of the owner's was part of the Glazer-Kennedy group I ran for five years.  There's a very good chance he's reading this article and I hope he knows my intent is only to help my readers and his family's efforts.
Looking at this ad, how would you use your knowledge of direct marketing strategies to improve it?
What design and layout changes would you suggest?
What copy changes would you suggest?
What offer changes would you suggest?
Leave your comments below and early next week, I will pick two random winners and send them a copy of Jim Straw's book.  I will also post a follow up article outlining a few of my suggested tweaks.  Good  luck!