A Display Ad Worthy of Your Study (and can you find the one missing thing?)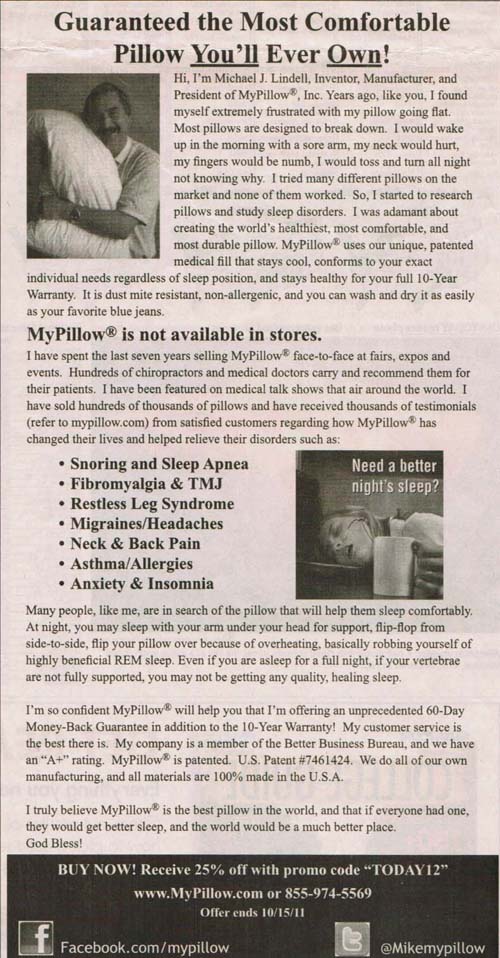 A few months back, I saw this ad in the newspaper and as soon as I saw it, I ripped it out and filed it to discuss as a display advertisement worthy of review. And just so there's no confusion, I am not a customer or affiliate of MyPillow®, but I definitely think they are doing a lot of things right in this ad and everybody reading this article can be reminded of what a good advertisement contains.
However, I think there is one big missed opportunity and I'm wondering if you know what it is? Post your answer below as a comment and we'll see who has their marketing think-cap on!
But let's take a look at what's right about this ad.
Attention-grabbing headline – check. I like this headline format and if you've ever slept on an uncomfortable pillow (and who hasn't), it immediately resonates with you. I also like how they use copy cosmetics in the headline by using boldface and underlining to set it off even more.
Decent copy – check. I like the story-driven, "me to you" feel of the copy in this ad, even though it breaks my rule of having the copy way to focused on "I" and "me." I did lose track of how many "I's" are in the copy and it does point out a potential area for losing readers (and it's not the one missing thing).
Typically, your copy should be about your reader's needs and wants and this ad is primarily about the author, however its intent is to read as a personal letter, so I think it works. Even the way he ends the ad will re-assure and comfort many readers.
Use of photos and graphics – check. Could be a bit better by providing a caption under each photo to help reinforce the message. The "need a better night's sleep" image is especially captivating.
Use of copy cosmetics – check. I already mentioned the headline. I also like how the add uses a bullet list, graphics and a good use of reverse print down at the bottom to set it off. A CopyDoodle® or two could have helped even more.

Guarantee – check. Not a bad guarantee. I would have suggested putting a border around the guarantee and adding a headline for the guarantee to make it stand out more.
Unique value proposition – check. The ad describes the patent and the fact the product is made entirely in the U.S. This is important to a lot of potential buyers and he's not hiding the facts.
Deadline-based offer – check. The ad offers a 25% discount if I were to respond by a certain date. This is very good and many marketers overlook this important requirement. Remember, an offer without a deadline is not an offer!

Multiple ways to respond – check. Typically, the more ways a person can respond, the higher the response will be. Not everybody is comfortable with ordering online and by allowing those folks to order by phone, there will be no missed sales. I also like the fact they included their social media links for folks who like to connect that way.
Testimonials – no, but… Could it have used a testimonial or two? Sure, but given the space, it would have been a challenge and they are addressed in the ad by driving them to the web site to read the "thousands of testimonials."
So all, in all, this is a very good display ad. It's laser-focused on what it's designed to do, which is sell pillows. Yet, I believe it's missing something important.
Do you know what it is? If so, leave your answers below and we will randomly pick one of the correct responses and send that person the CopyDoodles Swipe File CD-ROM ($97 value). I will also post a follow-up article addressing what's missing. Good luck!