FREE Video Reveals 6 Reasons Why You Must Check Out CopyGenerators For Yourself!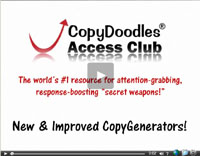 Today, more than ever, creating marketing that gets the attention of your target market and gets them to respond is critical.  We all know what it's like out there and the challenges we all face in getting our message heard and acted on.
And while there are many "shiny objects" that promise to solve this, in my opinion you should never discount the tried and true strategies successful marketers have used in the past.  This is why CopyDoodles® have proven to be so successful.  I did not invent the concept of handwritten margin notes and doodles for adding attention-grabbing, response-boosting power.  I simply made it drop-dead easy for ANYBODY to do in their marketing.
With the opening of the brand new CopyDoodles Access Club later this month, I am taking the power of CopyDoodles to a whole new level.  One simply unmatched by any other site or product out there – bar none, but also deeply rooted to proven, emotional direct response marketing.  This site has the power to transform your marketing and I am going to show you exactly how in this series of videos.
If you haven't already, check out http://www.copydoodles.com to see my overview videos under "Demos."
Today's video shows you the power of my enhanced CopyGenerators.  CopyGenerators allow you to create customized and personalized marketing graphics that stand out and get the attention of your readers online or offline.
There's truly nothing like my CopyGenerators out there.  Check out this short video to see for yourself.
Here's a quick list of the improvements we've made:
•    Improved CopyBubble Generator allows you to create "bubble text" on-the-fly
•    Enhanced CopyButton Generator features more Web button styles and the ability to easily customize every feature of the buttons, including the ability to have handwriting on your buttons!
•    Our new CopyDoodle Generator allows you to create your own CopyDoodles instantly via a brand new "what you see is what you get" feature.
•    Improved CopyNotes Generator allows you to create handwritten notes on a variety of new background images and even easier to use!
•    Enhanced CopyStamps Generator allows you to create simulated rubber stamps in seconds!  You can now see your CopyStamp before downloading and even add a "worn" look to your stamp.
•    With our famous CopyComic Generator, you can create customized, attention-grabbing (and fun) comics with just a few clicks!
I invite you to take a few minutes and check out my latest video to see each of these in action and leave me a note about your thoughts on our new CopyGenerators.  One lucky person, who leaves a comment, will win a full-blown version of my Copy Booster Profit Secrets course valued at $497.  Check it out now at: