The Attention-Grabbing Power of the Provocative Headline
THE SEXLESS MARRIAGE.
I have to admit… it caught my eye.  Not for any personal relevancy mind you, but because of the marketing beauty of it.  Three short, simple and provocative words that get instant attention.  From a marketing perspective, there's a lot to learn from this short statement.
As a matter of fact, I immediately fired off an email to a buddy of mine and told him to add this to his email marketing swipe file for his business.  I also knew it was a good opportunity for a marketing lesson, so here goes.
Lesson #1: Sex (still) sells!
Sex (or in this case the lack thereof) or the illusion of something a bit naughty still sells. This should come as no surprise to us humans, yet for many reasons most marketers stay far away from this undeniably human need.  Of course it's prevalent in the niches you would expect, such as the dating niche and a few others I'm sure you can think of.  And nobody is immune to walking by the magazine rack at your local store to see its power on magazine covers.  One of the first emotion-driven copywriting lessons I ever learned was to use the covers of magazines like Reader's Digest, Cosmopolitan and the National Enquirer as a swipe file for ideas.
I am sure a number of people reading this would be uncomfortable using sex in their marketing, but before you completely dismiss the idea, is there some way you can tap into its power?   For example, I love what Joe Polish did with his Gary Halbert private recordings, when he created "Gary Halbert XXX."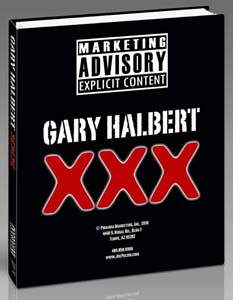 As you can see the packaging and name conveys that this is something different and possibly a bit naughty.  The results?  A very successful product.
Another example was a real testimonial sent in by a CopyDoodles customer.  He sent an email that said… "CopyDoodles are better than sex (but maybe I'm doing something wrong)!"  Needless to say, his testimonial stood out and one I used whenever I wanted to laugh from an audience.
Lesson #2: Provocative statements/questions are powerful attention-grabbers
Top copywriters understand and use the power of provocative statements like a chef uses spices.  What can you say about your product or service that's not plain-vanilla and provokes serious thought?
The knockout power of the provocative question or statement is undeniable and one of the best ever was a copywriter named Bill Jayme (pronounced jay-mee).  Bill was the mastermind behind many famous campaigns, but the one I like best was an envelope he designed for Psychology Today that posed the question…
"Do You Close the Bathroom Door Even When You're the Only One At Home?"
Though the design is a bit dated by today's standards, it's still being used years later as a classic example of asking a provocative question to get attention.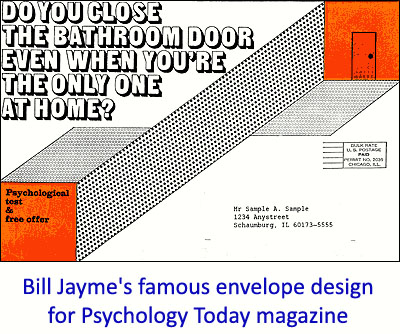 If you're a serious student of marketing, Google "Bill Jayme."  There's also a collection of Bill Jayme's work available from my friends at DirectMarketingIQ.com (note: I don't own this and am only including this non-affiliate link for those interested).
Lesson #3: Have your marketing radar always on
I've written about this many times in the past, but I constantly urge all business owners and marketers to have their marketing radar set to "always on."
What do I mean by this?
Quite simply you should always be on the look-out for examples and ideas from others (that are constantly around you) that you can use for your business and marketing.  You should:
study all the direct mail that comes into your office
keep your eyes out for email subject lines that got your attention
keep a swipe file of advertisements, emails and mailings
always be on the look-out for smart ideas you can swipe and use in your marketing efforts
Many times these inspirational ideas come at odd times or places.  Recently I was in a Staples doing some shopping when I came across a neat little miniature book, called "iPad for Dummies – Mini Edition."  I like the format so much, I spent the $1.00 asking price and immediately added it to my swipe file.  Just last week when we opened the new CopyDoodles Access Club, this idea became a reality with the CopyDoodles Pocket Guide book I published and include in every CopyDoodles New Member Welcome Kit.  You never know when your next powerful marketing idea may come from (which is the exact reason I created my SMART Ideas newsletter).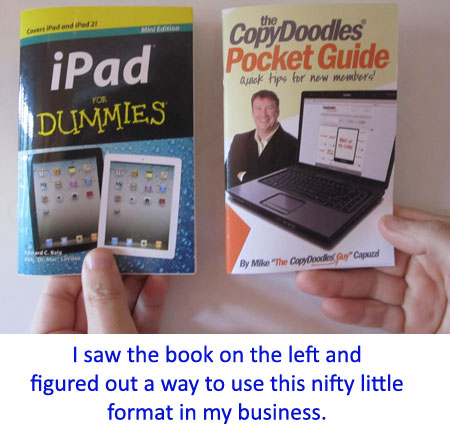 I want to hear from you!
Share your comments on how you have used the power of provocative statements and questions in your marketing or if you have a good story about your marketing radar share it below!