My Seven Blueprints to Successfully Publish a Paid Newsletter
After months of research and content development, I'm pleased to announce the availability of my seven personal blueprints to successfully publish a paid newsletter in my brand new Subscription Newsletter Success Blueprints course.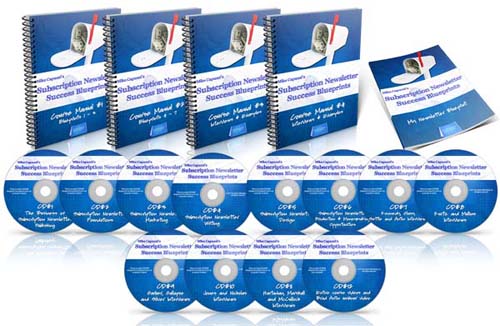 Publishing a paid subscription newsletter can be one of the smartest and most profitable things you can do and done right, your newsletter can make you rich and famous. If you're like me, it's the "perfect" business, which offers you:
The ability to create monthly or annual continuity income
A high return on your money and time investment
The opportunity to have a monthly conversation with your subscribers
The ability to build and leverage your own marketing media (which can become a $$$ asset)
A proven media that can be the foundation of a profitable membership program
And perhaps the most important benefit, flexibility and freedom to run the business with few (if any) employees, little overhead and around your life!
Subscription Newsletter Success Blueprints is the most comprehensive, in-depth and practical study and how-to guide for any entrepreneur who wants to leverage his or her business expertise, hobby or passion with a paid, print newsletter.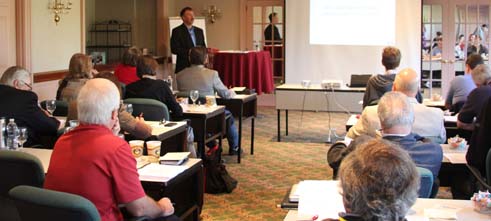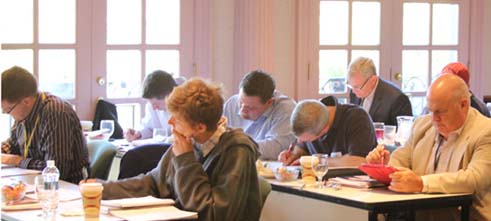 This past October, business owners from all over flew into Philadelphia to spend a day with me learning how to get into the paid subscription newsletter business.  This one day workshop was the culmination of hundreds of hours of research and content development and by the end of the day I had delivered over 1,000 pages of tips, guidelines, marketing examples, newsletter examples, interviews and more.
Unfortunately, there are few resources available showing aspiring publishers how to start and publish a paid newsletter, which is the why I hosted the workshop.  I've now taken the best of the best of this workshop and turned it into an easy-to-follow, easy-to-implement home-study course.  There is truly nothing like my Subscription Newsletter Success Blueprints home-study course and I believe it's my best work ever!
My seven subscription newsletter success blueprints include:
Blueprint #1: The Business of Subscription Newsletter Publishing
Blueprint #2: Subscription Newsletter Foundation
Blueprint #3: Subscription Newsletter Marketing
Blueprint #4: Subscription Newsletter Writing
Blueprint #5: Subscription Newsletter Design
Blueprint #6: Subscription Newsletter Production
Blueprint #7: Subscription Newsletter Moneymaking Opportunities
In addition to my own blueprints and marketing examples, which I gave to every attendee, I also included 21 full-issue newsletters from some of the most respected newsletter publishers in the world, including 14 interviews with the likes of:
Dan Kennedy
Ben Glass
Ben Settle
Brad Antin
Brian Kurtz
Chris Mullins
Craig Garber
Dan Gallapoo
Yanik Silver
Jerry Jones
Ted Nicholas
Paul Hartunian
Perry Marshall
Jon McCulloch
The home-study version of my workshop is huge!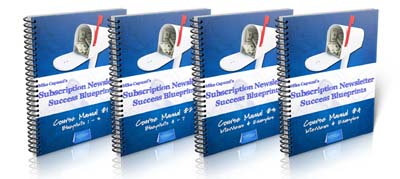 There are four printed, coil-bound books, totaling over 1,000 pages of content, marketing examples, newsletter examples and word-for-word transcripts. Every slide, example word-for-word transcript is included and these books will be priceless when it comes to seeing actual examples and ideas for your newsletter.

There are 11 audio CDs and one video CD and the video CD contains my entire video presentation of the seven blueprints, so you can see everything the workshop attendees experienced.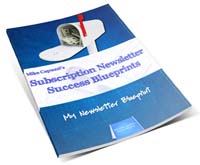 Finally, there is your personal Newsletter Blueprint, which will allow me to help you get your subscription newsletter off the ground.
If you are interested in learning more about this one-of-a-kind resource, check out a recent video I put together about it or visit http://www.infomarketingblueprint.com.