The Revenge of Analog – book recommendation
Given the year is winding down, I thought I would share a few book recommendations and resources I found worthwhile in 2016.  Next week, I will share some interesting and useful book-related resources, but today I want to share a book I read this past weekend,The Revenge of Analog: Real Things and Why They Matter .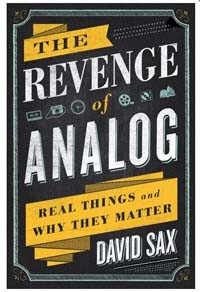 I picked up The Revenge of Analog by David Sax while at my local Barnes and Noble bookstore this past Friday after a recommendation by my friend Ben Glass.  Maybe it was the title that intrigued me, maybe it was middle-age nostalgia, but I read the book cover to cover over the weekend and found it interesting and noteworthy-taking.  This alone is saying something, because I typically only finish half the books I start.
Sax's premise is that digital is not the savior of humankind and that many examples of analog thing not only exist but are making a comeback of sorts, including vinyl records, "real" books, board games and photography film.
According to one book review site, "A funny thing happened on the way to the digital utopia. We've begun to fall back in love with the very analog goods and ideas the tech gurus insisted that we no longer needed. Businesses that once looked outdated, from film photography to brick-and-mortar retail, are now springing with new life. Notebooks, records, and stationery have become cool again. Behold the Revenge of Analog."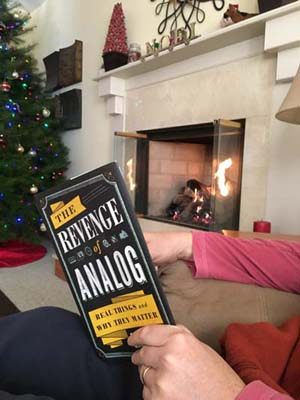 To give the book it's due respect, not only did I purchase the hardback version, but I read it while sitting next to a toasty fireplace, in my favorite chair, while the temperature outside hovered in the 20's.  I turned all digital diversions off (for as long as I could – more on this in a minute).  A classic and Christmassy "analog experience."
As a student of marketing, I found this book recommendation-worthy for two reasons.
Being a kid in the 70's and 80's, this book was a bit of a stroll down Memory Lane.  While I appreciate and use digital technology, I have an affinity for old-school, analog things, and Sax reminded me that I am not weird and that many people, young and old, are re(discovering) the benefits and pleasures of analog things.
Using examples in retail and print, David Sax reminds the marketer in all of us that people who want analog things are OK with paying a premium for these "real things." He also reminds all of us of the slippery slope of going all-digital with the hopes of reducing marketing costs, reaching more people, etc.  This reminder alone is worth the price of the book.
The other cool aspect of this book was that I eventually had to turn my iPad on because Sax shares so many interesting things and "bookmark-worthy" resources.  I found myself putting the book down and doing a quick Google search to learn more about the people, places and things he writes about.  I also ended up buying a few more "real things" that I learned about for the first time.
I recommend this book and for marketing-oriented business owners, I think you will find it especially interesting and instructional.
Have you read a book lately that I should know about?  If so, leave a comment below and share it with me and others.  I am always on the look-out for recommended books and would love to hear your thoughts.