Business Thank You Letters: The Power of Handwritten Thank You Cards
Business thank you letters, at this time of the year, are more than appropriate to remind everybody of an extremely critical business (and life) principle – the power of gratitude.
I don't know about you, but lately it seems many people forget just how fortunate we are to be entrepreneurs who are able to add value to our customers' and clients' lives.  Regardless of the "new economy", there's no excuse not to be mindful and appreciative of those around us, especially our customers, clients and patients.
I want to share with you a business strategy that by itself, can have a dramatic and positive effect on your business.  And get this, EVERYBODY reading this can immediately   implement and use in their business… EVERY BODY!!!
It's the power of the simple, handwritten business thank you letter or card.  Just today, I received three such cards in the mail, including this one from my Elite Experience Mastermind member, Nina Hershberger.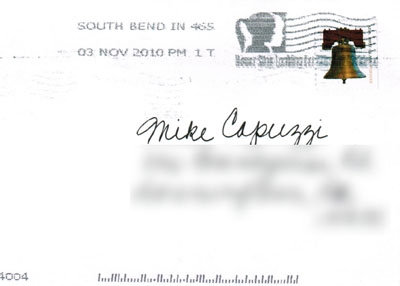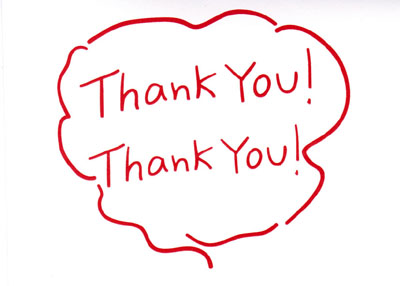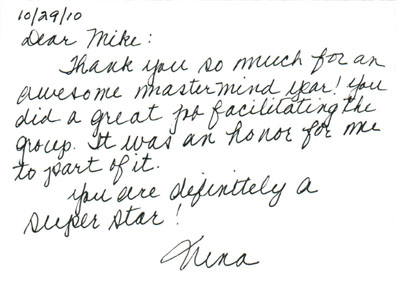 I know business owners that use thank you cards as a primary marketing strategy and their results are phenomenal!   Here's what my friend and master marketer Michael McLean has to say about his use of handwritten thank you cards.
"Since leaving professional sports and joining my fathers insurance agency in 2003 we were able to TRIPLE in size ($3.4 Million – $11.1 Million) in 36 short months – writing handwritten personalized 'Thank You Cards' has been the  # 1 secret to our MASSIVE business building results.

I have been personally writing and mailing 4-5 'thank you cards' per day since 2003 (over 1,125 cards per year). Thank you cards are an investment in client retention, drive quality referrals, end my business day on a POSITIVE note and create a true WOW experience for our clients. Little hinges do swing BIG doors."

Michael McLean
President of McLean Insurance & Renegade Insurance Marketing
Think about it… who doesn't like to be appreciated and thought of?  This is an extremely powerful emotion you should be tapping into regularly and to help you consider when to send thank you cards, here's a list of opportunities:
When you get a new client/customer
When an existing client/customer who gives you a new project
When someone who makes a referral to your company
When a peer who gives you helpful advice
As a follow-up after a meeting or phone call
For a job well done by an employee, vendor, or associate
When someone shows you a kindness
On the next episode of CopyDoodles TV, I am going to show you how I use handwritten thank you cards in my business and give you valuable design tips for creating your own unique thank you card.  I am also going to show off a number of cards I've created and that I have received from grateful colleagues.  Don't miss it!
As you consider the gratitude in your own life and business, I highly recommend reading or rereading the book, "The GoGiver."  Check out the site at www.thegogiver.com.
Finally, if you have a unique business thank you letter you send out, send me a JPEG or PDF of it and I may include it in the next episode of CopyDoodles TV.