High Impact Marketing Quiz – Google Mailer
One smart way to create high impact marketing is to not make the same mistakes others make, and you have to look no further than your mailbox for lesson after lesson on how not to market your business.
If you've read my articles for any length of time, you know I like to run high impact marketing contests to see if my readers can spot the mistakes and fatal flaws in marketing pieces that come across my desk.
It's been awhile since my last contest – so to see if anybody is reading and more importantly able to find the mistake I want to point out, I have two brand new books to give away today.
The classic book by Robert Ringer – To Be Or Not To Be Intimated? That is the Question.
And No B.S. Business Success by Dan S. Kennedy.
Recently a multi-panel self-mailer (7" x 5.25") was sent to me by Google and there's a high probability you have received similar offers from Google giving you a credit to try out AdWords.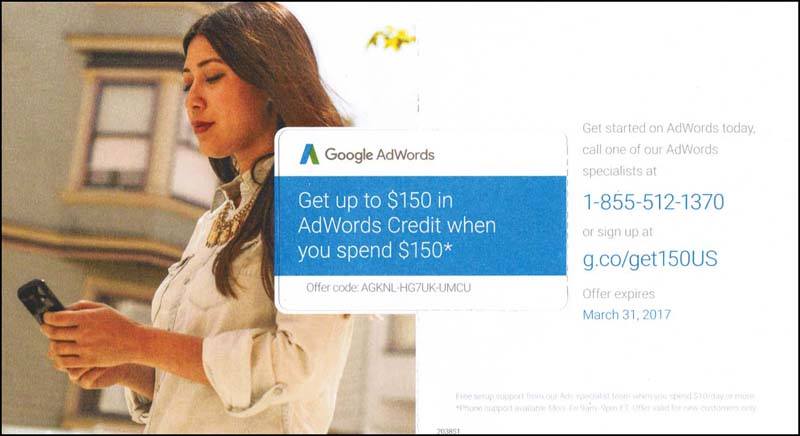 Besides noticing the important lesson of an "online" company doing good, old paper-and-ink direct mail to generate sales, the ad agency, who I am sure put this together, made a fundamental mistake, that if corrected, would generate a better overall response.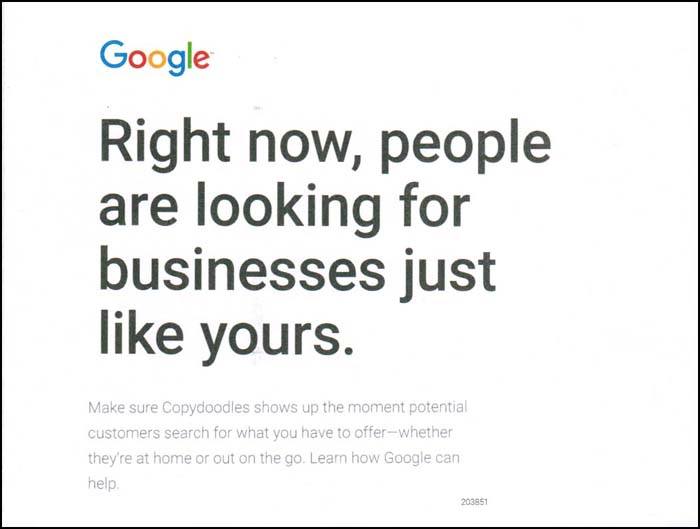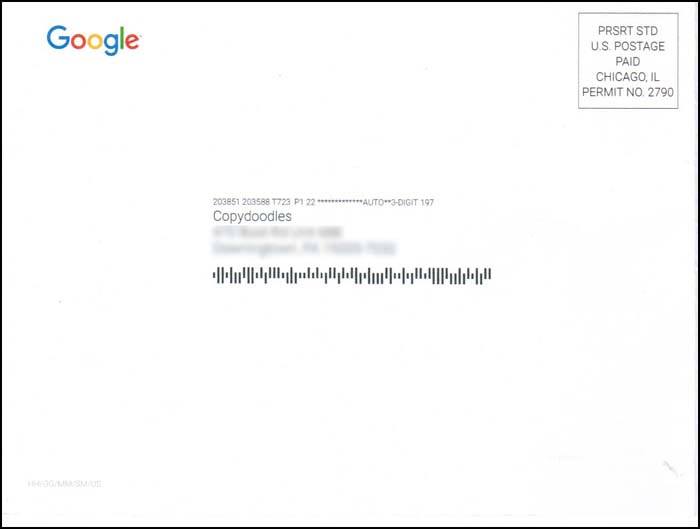 There is a second, obvious mistake in my opinion, but it's not the BIG one I want to see if you can identify.
Regarding the BIG mistake, I will give this little hint.  The person putting this together attempted to do the right thing, but missed the mark.
By the way, the mistake has nothing to do with the fact that they are sending this to "Copydoodles" instead of a specific person.
I will randomly pick two winners who identify the high impact marketing mistake being made and update this article with my comments and announce the winners.
Put your answer(s) in the comments section below and good luck!

HIGH IMPACT MARKETING QUIZ UPDATE!
There were lots of excellent marketing critique feedback about this piece, including:
Elsie, Bernie, Kevin and Jim who correctly pointed out the copy is weak and there are no big benefits or outcomes articulated.
Roy who pointed out there is no risk-reversal.
Neil who brought up an interesting technique with the use of photos and how to use them.
Mike who suggested there should be more copy and/or graphic enhancements to the ADDRESS panel of this mailer.  Big wasted opportunity here.
Peter who has a very good suggested tweak to the headline.
However, it was Tom who got the answer I was looking for and the point I want to make (Tom reach out to me regarding your choice of book).

Whoever designed this realized that personalizing it would help with getting it read, however the BIG, BIG mistake is that they buried the only point of personalization in small body copy, when in fact, it should have been in the headline – BIG AND BOLD!
If you are going to go through the expense of adding personalization, then make sure it's featured and doing everything it should be doing to get the reader's attention.
Burying it, like they did in this piece, is like going through the effort of making a big, homemade dinner and then putting it in the fridge and serving a T.V. dinner (do they still make those?).
Without too much thought, here is how I would have designed the two panels that contain personalized content.
On the ADDRESS panel, I would have added some additional personalization with a handwritten font note.  Like this: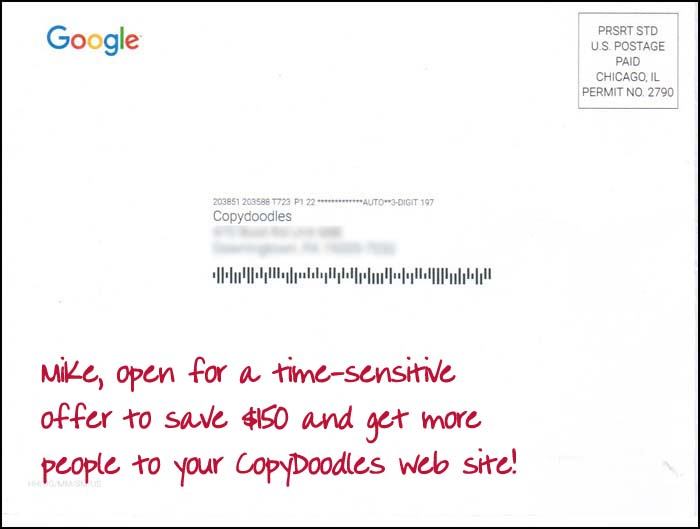 On the inside panel, I would remove the Google logo and put in the recipient's first name and their business name in the headline.  I also added a CopyDoodle in bright red to help draw my eye into the piece.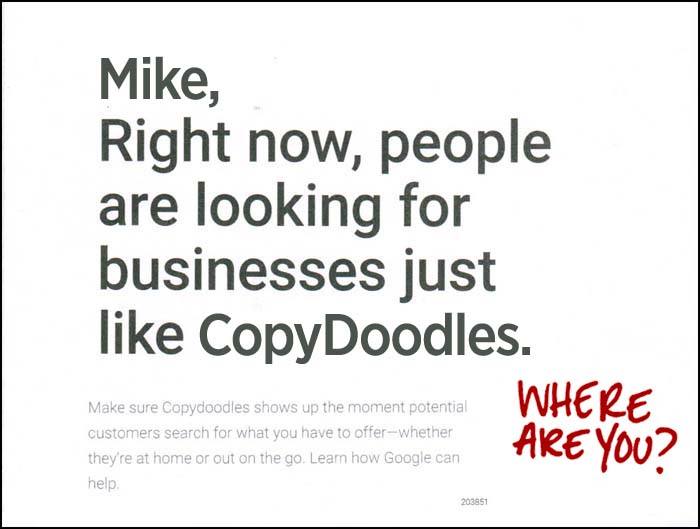 Definitely, better and more attention grabbing!  The big takeaway here is that personalization and customization is a smart and effective strategy – WHEN DONE RIGHT.  Here are a few past articles on the topic of personalization you might find interesting.
https://mikecapuzzi.com/how-not-to-create-personalized-marketing/
https://mikecapuzzi.com/high-impact-marketing-no-no-personalized-postcard-example/
https://mikecapuzzi.com/direct-mail-advertisement-strategies-does-your-marketing-cross-the-goal-line/